Life Membership - What does it mean?
"The Society may grant life membership to members who have given outstanding service to the Society. Any such Life Member shall have all rights of a member, save that he or she shall not be required to pay any further membership fees. Appointment of life members is to be limited to a total of two within any calendar year."
As many of you will be aware, it was announced at the recent 2019 AGM that our two stalwarts, Elizabeth and John Cox have both been awarded Life Membership of the HRSA for their outstanding service, dedication and leadership to the club in SA since it was founded. Recently, Chris Ratcliff called in to have a chat with Elizabeth and John, to find out a bit about them, and to take a few photos of their collection……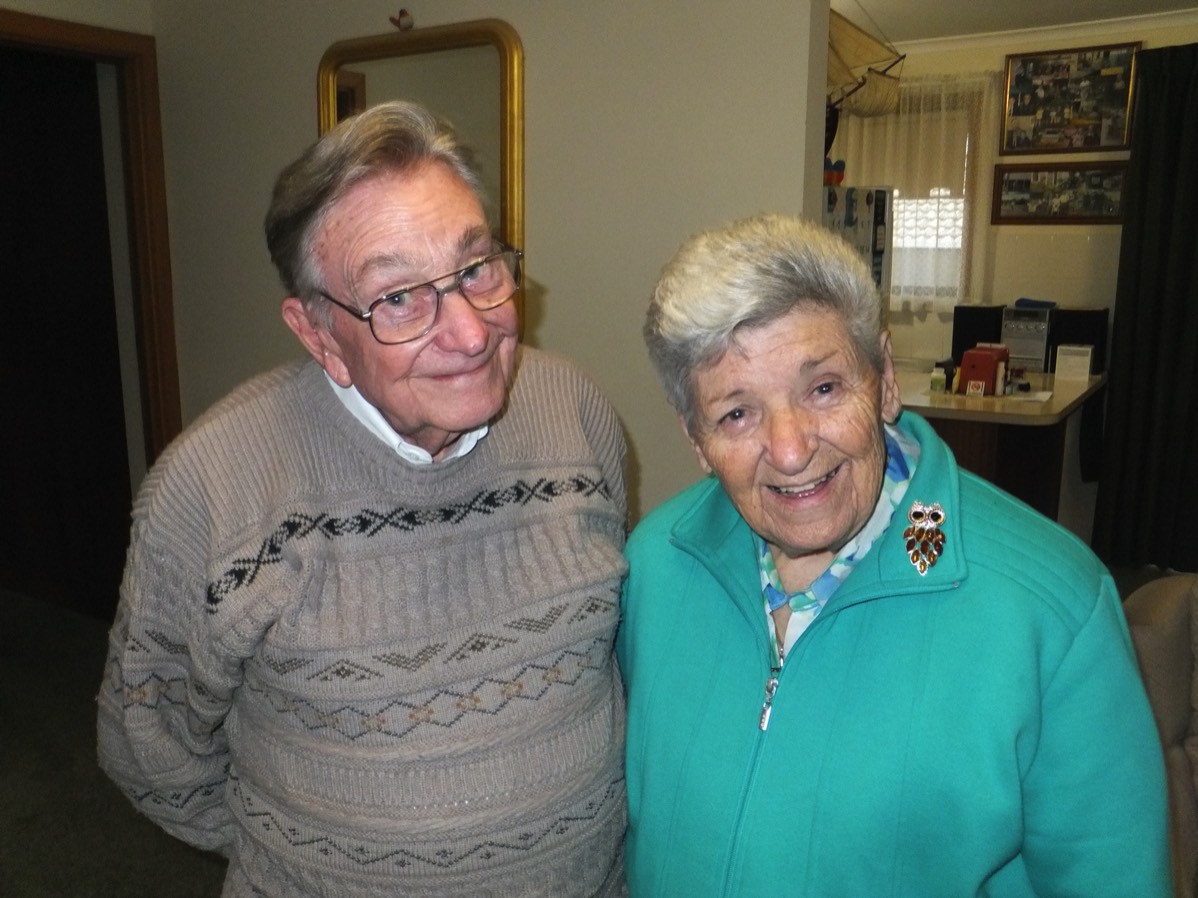 John and Elizabeth Cox
From their faces, when you talk with them you can see that they're still very much in love with each other.

Did you know that they met in jail?
….more about that later, so read on….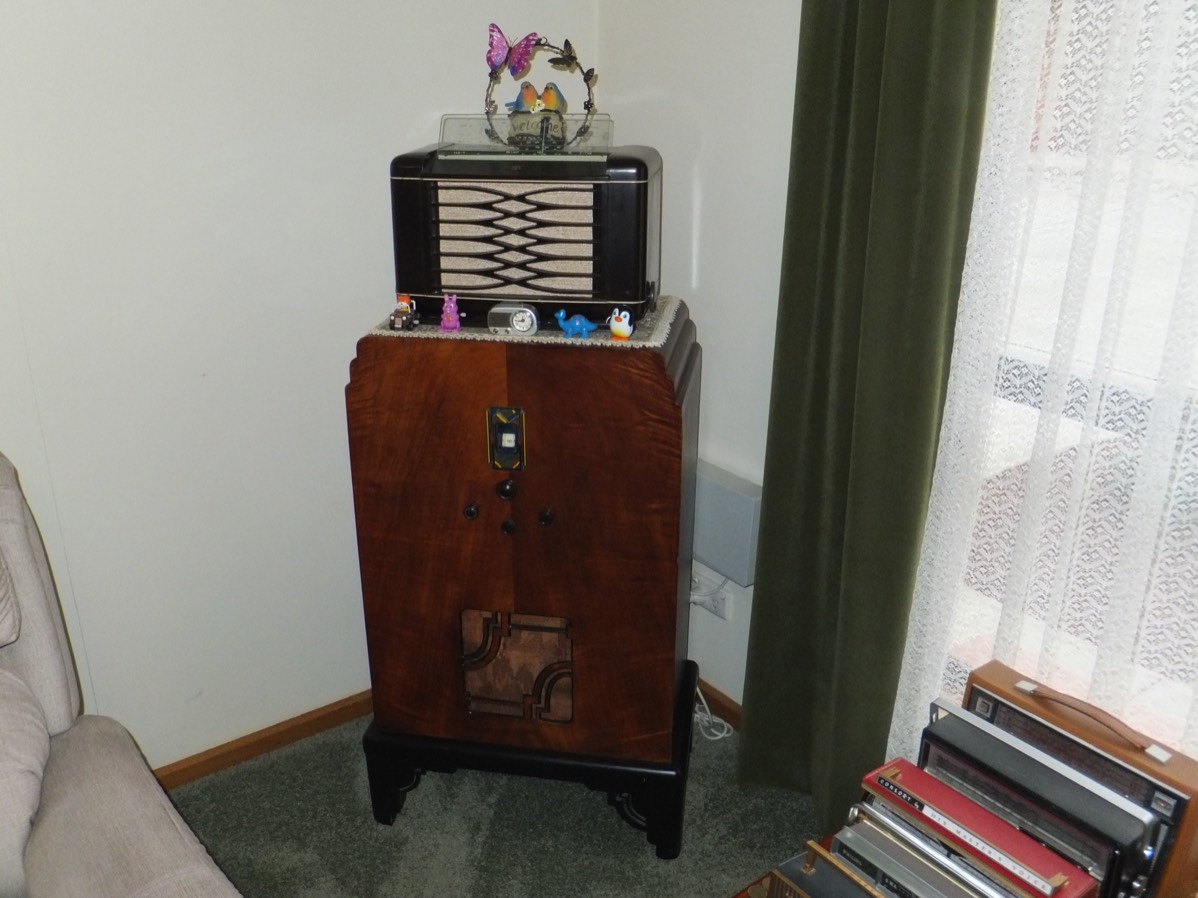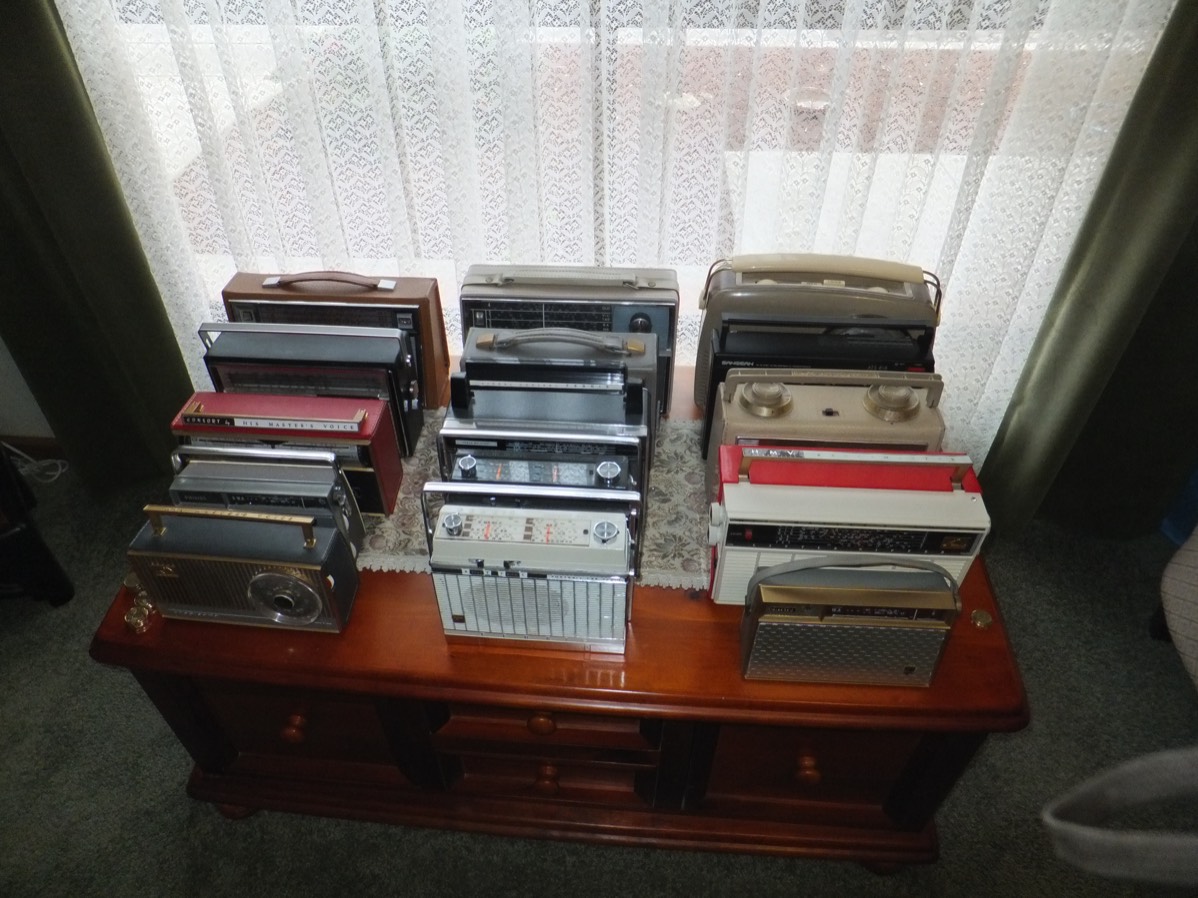 Have a look at the magnificent Philips "inclined dial" Mantle radio on the top of this pair of beautifully restored radios in the Living Room.
By the window is a collection of interesting portable radios.
Some background about Elizabeth:

Elizabeth came to Australia (on her own) in January 1956 at the age of 17 from Leeds in Yorkshire, UK. Upon first arrival, she lived for a while in Angas Street in the city at a Salvation Army Hostel. Soon after, she moved out to Gawler as she got a trainee-job working with the Post Master General's Department (P.M.G) working as a switch-board operator. Elizabeth had to take classes at the Gawler Institute as part of her training to learn how to speak Australian!!
Think of it…… when you lifted the handpiece (no dialling in those days out at Gawler) the Exchange would answer and the operator would ask "Number please", so you may have had Elizabeth as your connection operator at the exchange!
After a year, because of the awkward train timetables between Gawler and Salisbury for Sunday shifts especially, Elizabeth handed in her resignation.

Her next adventure began (while still living in Gawler) was at Gerard Industries where she learned soldering and working with printed circuit boards and stayed there until 1961.

Elizabeth then moved to the Weapons Research Establishment (WRE) at Salisbury where she worked on radio manufacturing until she was moved to the Apprenticeship Training School and had to leave. Why did she have to leave?? - you may well ask!! It was because she was engaged to be married and, in those days, married women were regarded as unreliable. Many companies and many government departments had policies about female employees in those days. Women had to resign when they were engaged or married - because family duties were bound to follow!!
Elizabeth then went on to become an employee of Medibank where she worked as a switchboard operator. She finally retired from the workforce in 1986.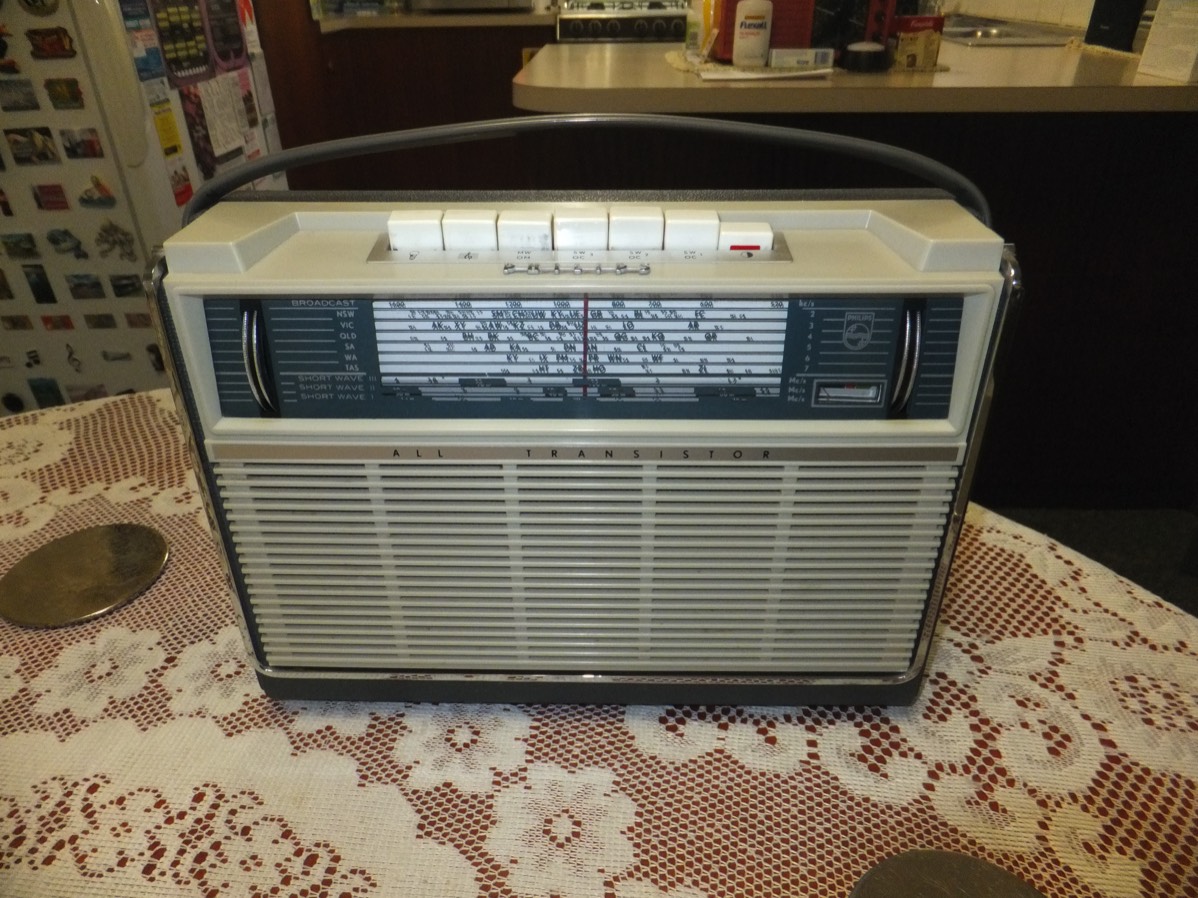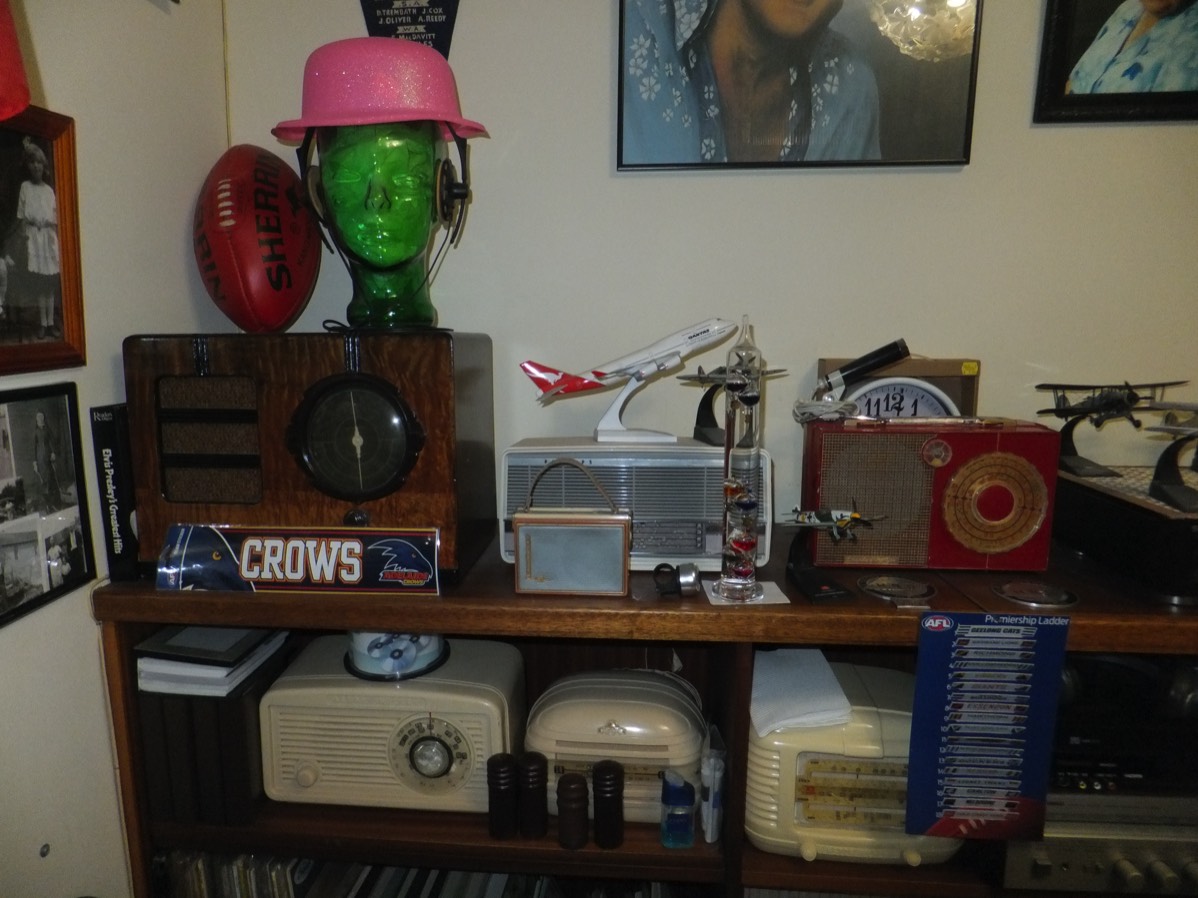 A Philips portable radio that John purchased brand-new from Philips in 1963-64
More of the collection…note the white Astor Football and the white Astor Mickey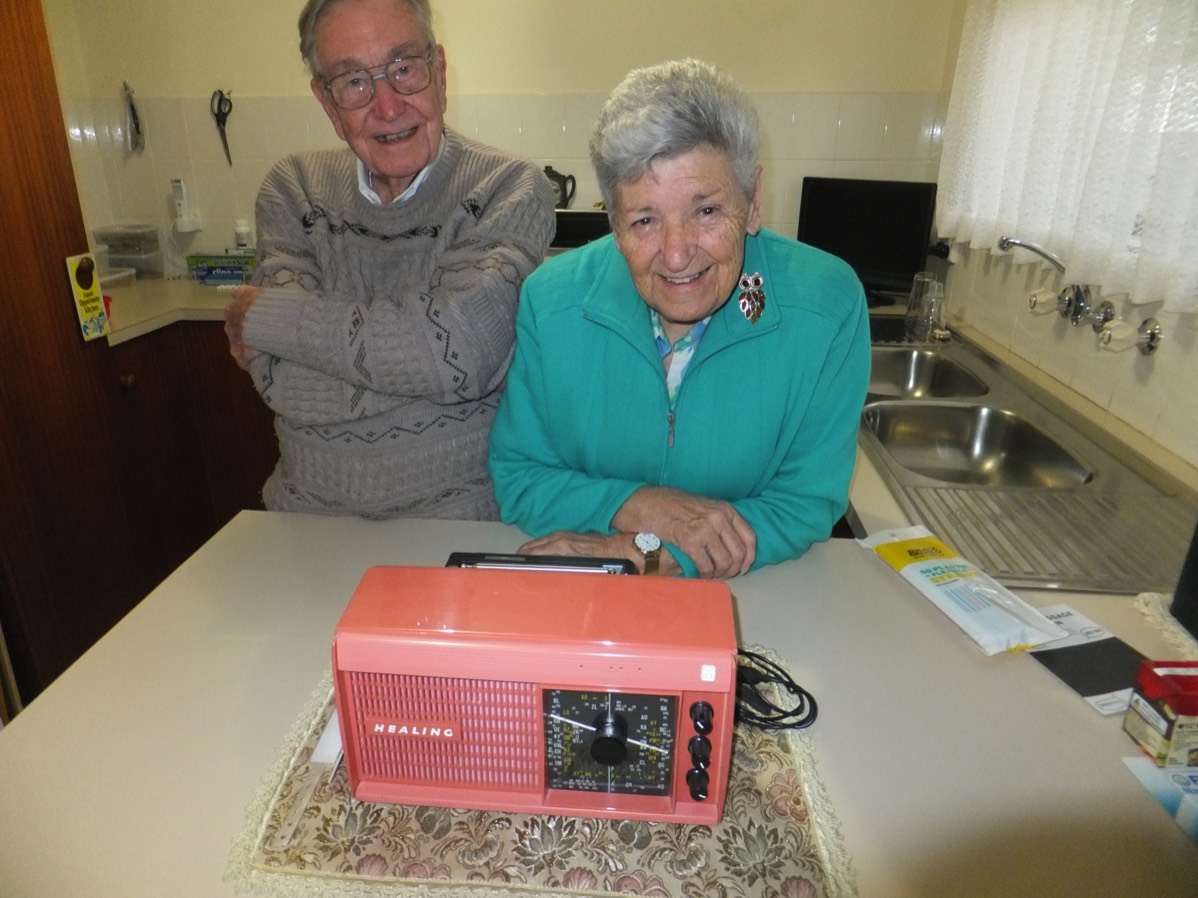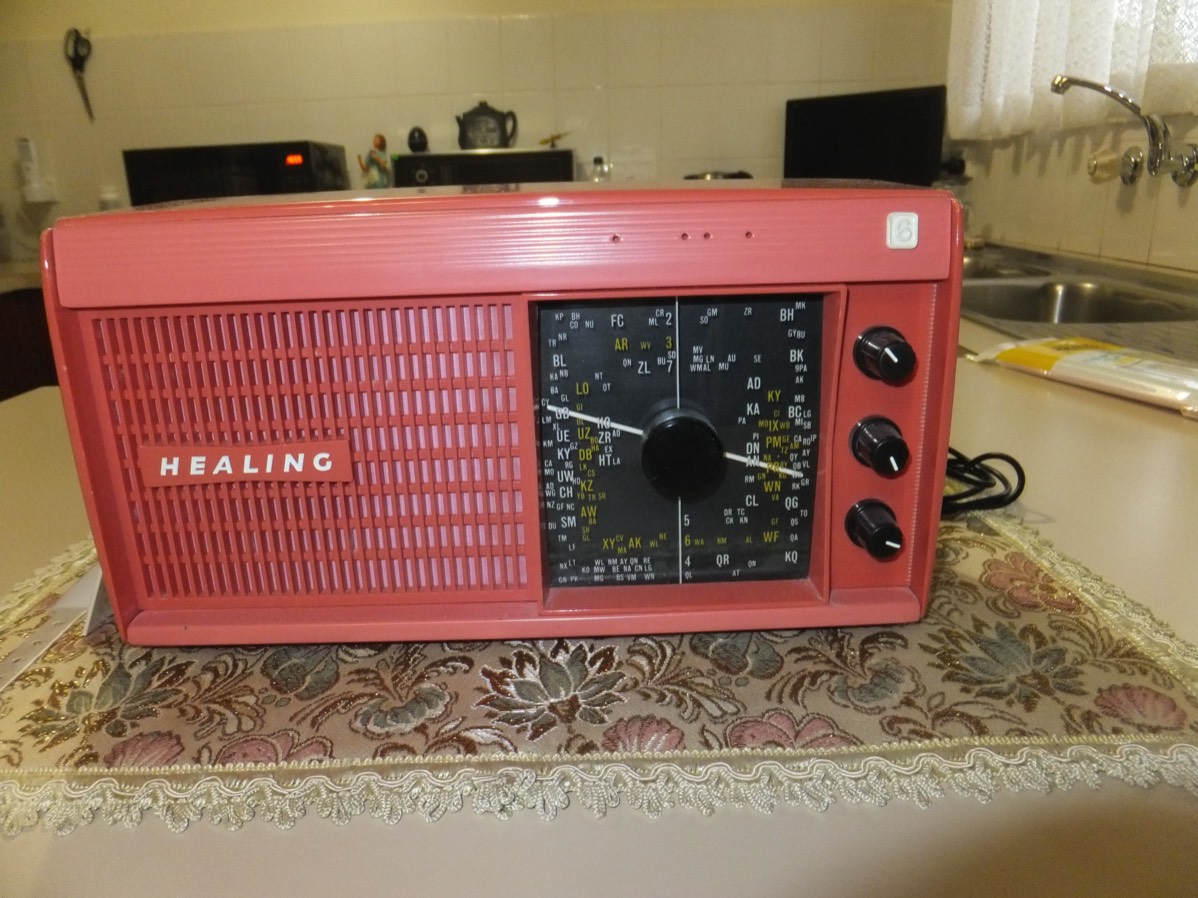 John and Elizabeth together in the kitchen of their unit
A closer snapshot of John and Elizabeth's pink Healing kitchen radio.
Some background about John:

John tells us that he was born at 1:45am on Sunday 25th June 1933 at the Queen Victoria Maternity Hospital, on Fullarton Road at Rose Park opposite the Victoria Park Racecourse!
He skipped the details of his childhood and began the story of his working life as a First-year apprentice at Mayfield's in 1950. He finished his apprenticeship there and left in 1959 to start work with A.V. Roe at the Weapons Research Establishment (WRE) at Salisbury, as an Electrical Laboratory Assistant at the princely sum of £18-15-0 per week. John stayed at WRE until 1963.

His next job was at Philips, Hendon, in the Communications Lab (T.C.A.) in 1963 and 64 but it wasn't for long as he went back to the W.R.E. at Salisbury to the Central Test House. However, that too didn't last for long as he moved to the Navy Department in 1968, and into weapons testing. The final testing of the E.M.I.E.'s "IKARA" Missile System in which John was involved, drew the attention of the American Government. The missile proved to be a winner, but the Americans never went ahead with the purchase.
John retired from full-time work in 1981.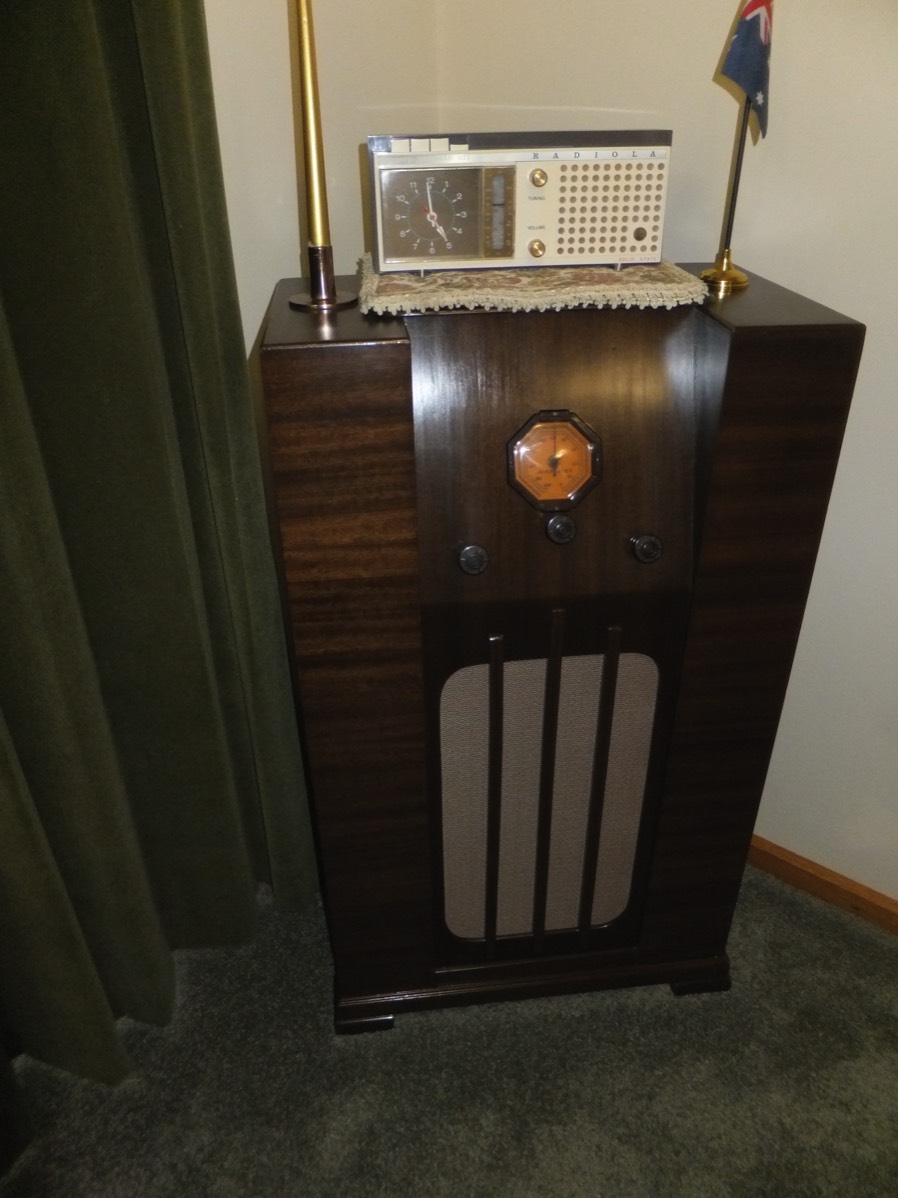 Left:
A beautifully restored Console radio with a particularly attractive Octagonal dial.

On top of the Console is an AWA clock-radio that John purchased new from AWA. The clock, and the radio are both still working.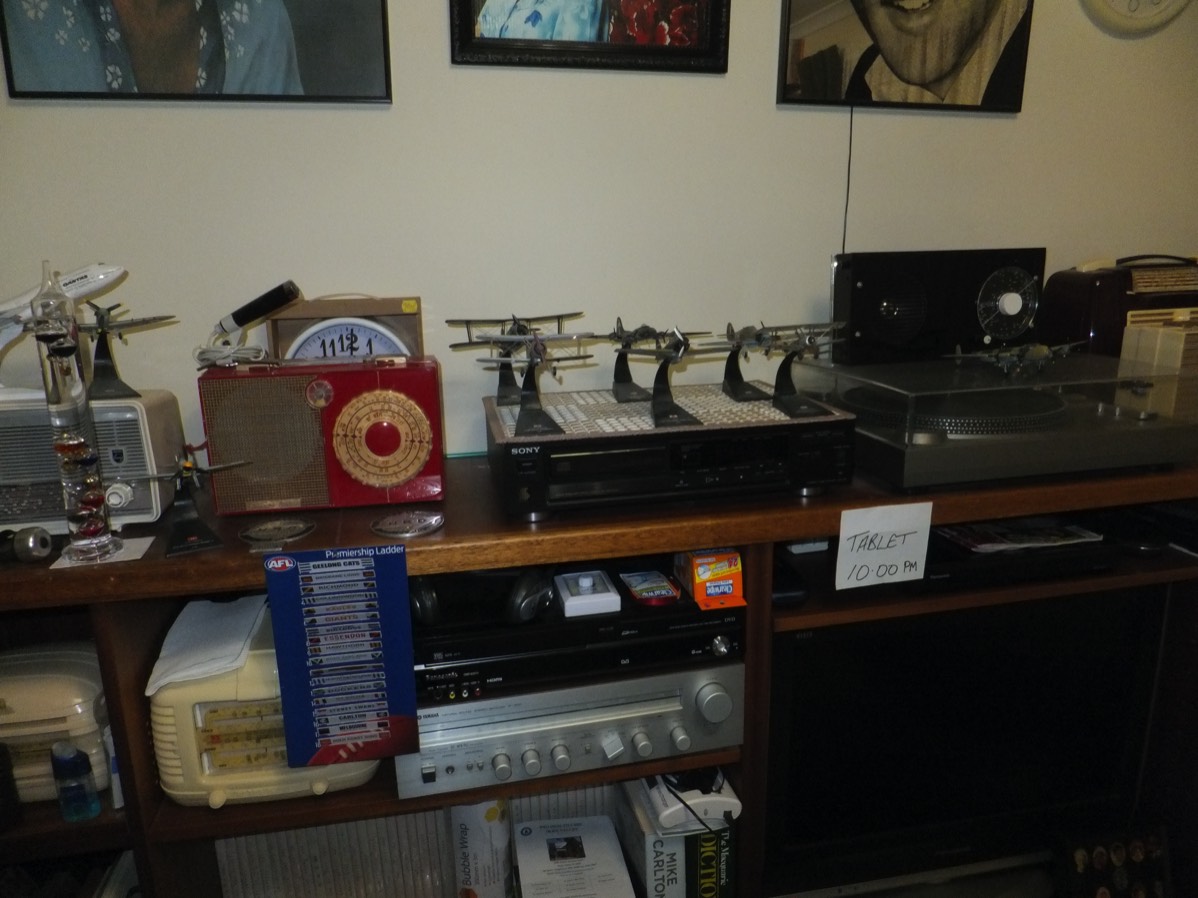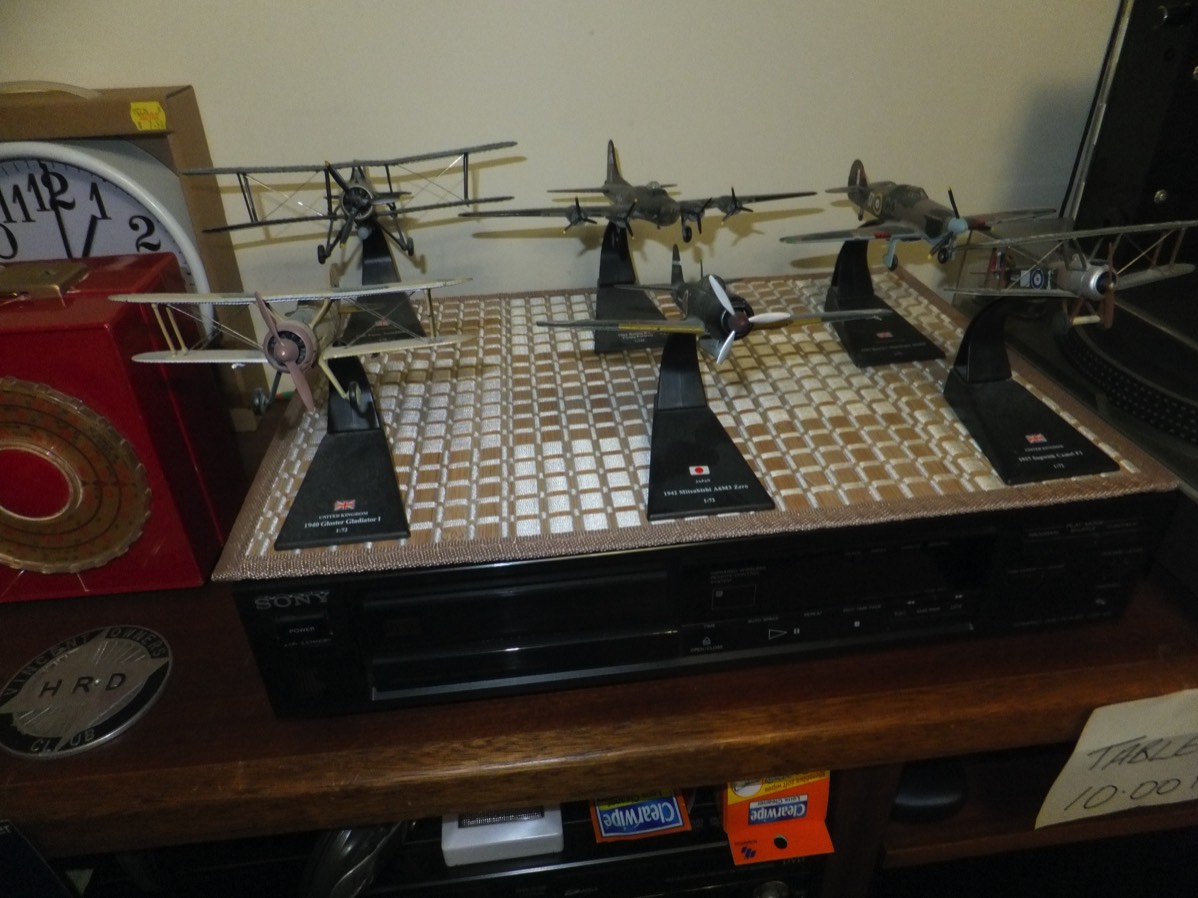 Model aircraft are also part of John and Elizabeth's collection.


They met in Prison!

During the early to mid 1960's the Yatala Labour Prison used to have regular dances at the prison and often, people from outside were invited to attend these social gatherings! One particular Saturday night, unbeknown to both Elizabeth and John, friends took them to the dance where they were introduced to each other. John and Elizabeth were married on 20th September 1969, so this year, they are celebrating their Golden Wedding Anniversary – 50 years together!!

John joined the HRSA in 1998 and Elizabeth joined in 2010 and they have both supported our club in many ways ever since. As you will know, Elizabeth does the afternoon teas at all our meetings whether they are at St. Cyprian Church Hall, or at members homes. John and Elizabeth supply the coffee, tea, sugar, soft drinks and sandwiches while members bring along biscuits, cakes and buns to round out the feast! They also supply the crockery – all those coffee cups and serving plates that we use. They have never accepted payment ever for supplying these services, so when you add it up, over all those meetings across all of those years, it adds up to a significant financial contribution that they have made to our club for which we are forever grateful and thankful.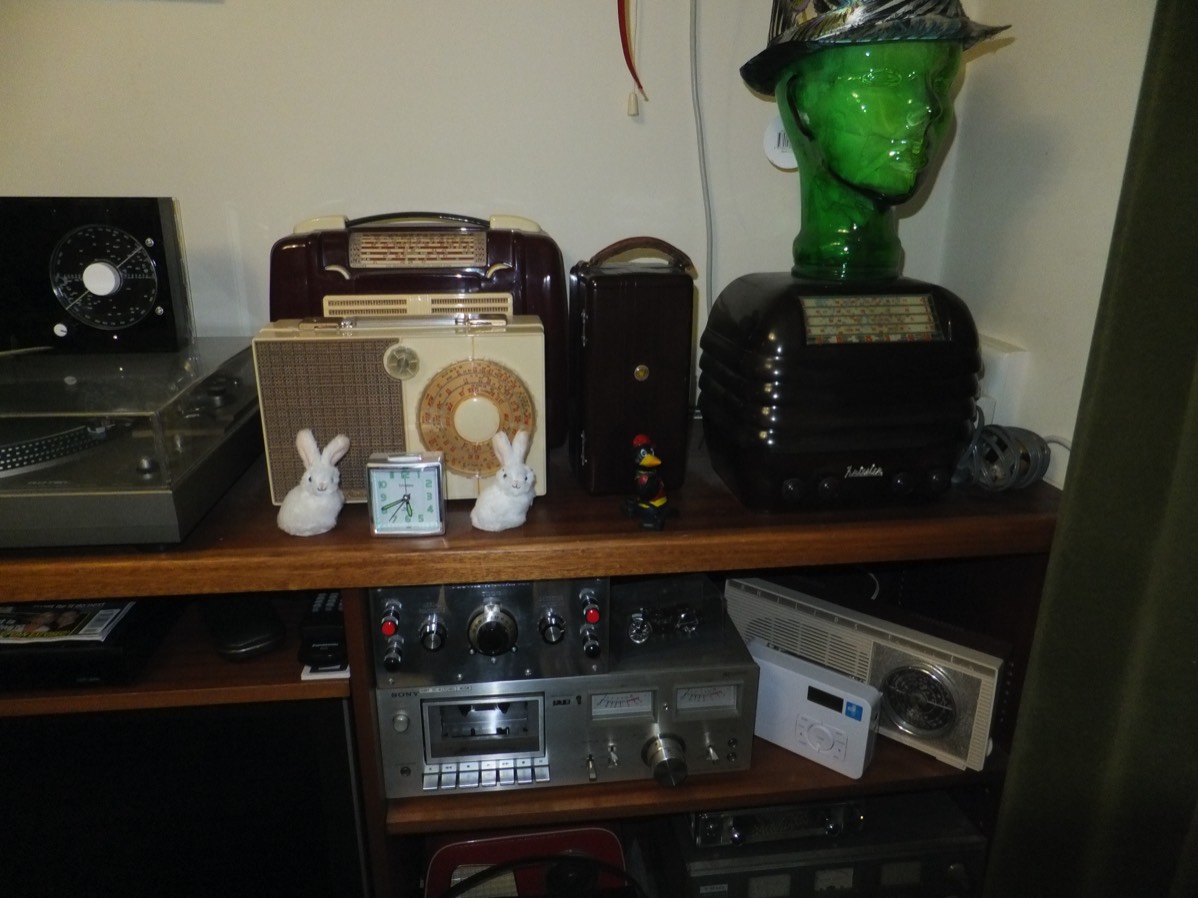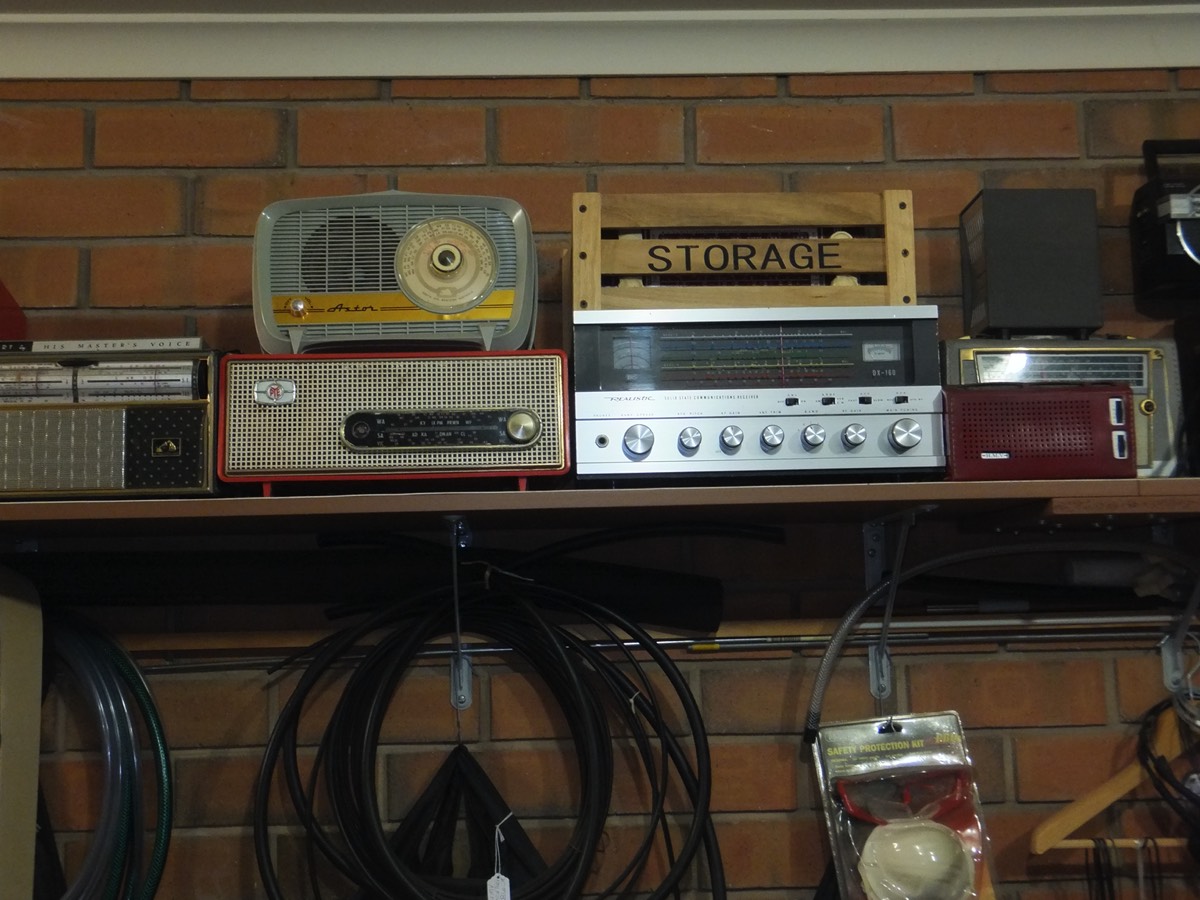 HMV Portable valve radio, battery/electric. Behind is a Stromberg Carlson portable radio (centre) and an AWA portable (left) and a Kriesler "Beehive" (on the right)
In this photo: A green Astor DLP and a couple of other portables. Below the Astor is a PYE, which John thinks is the better performer!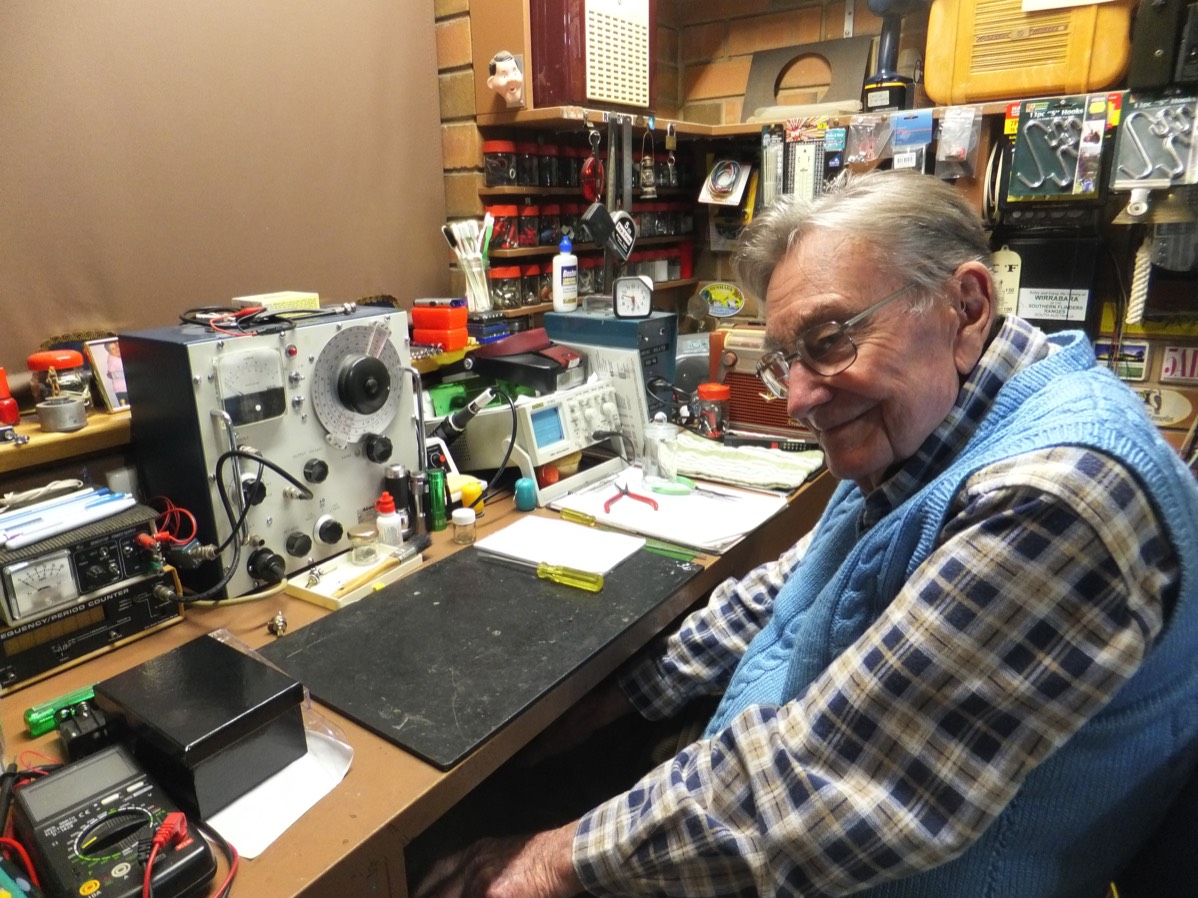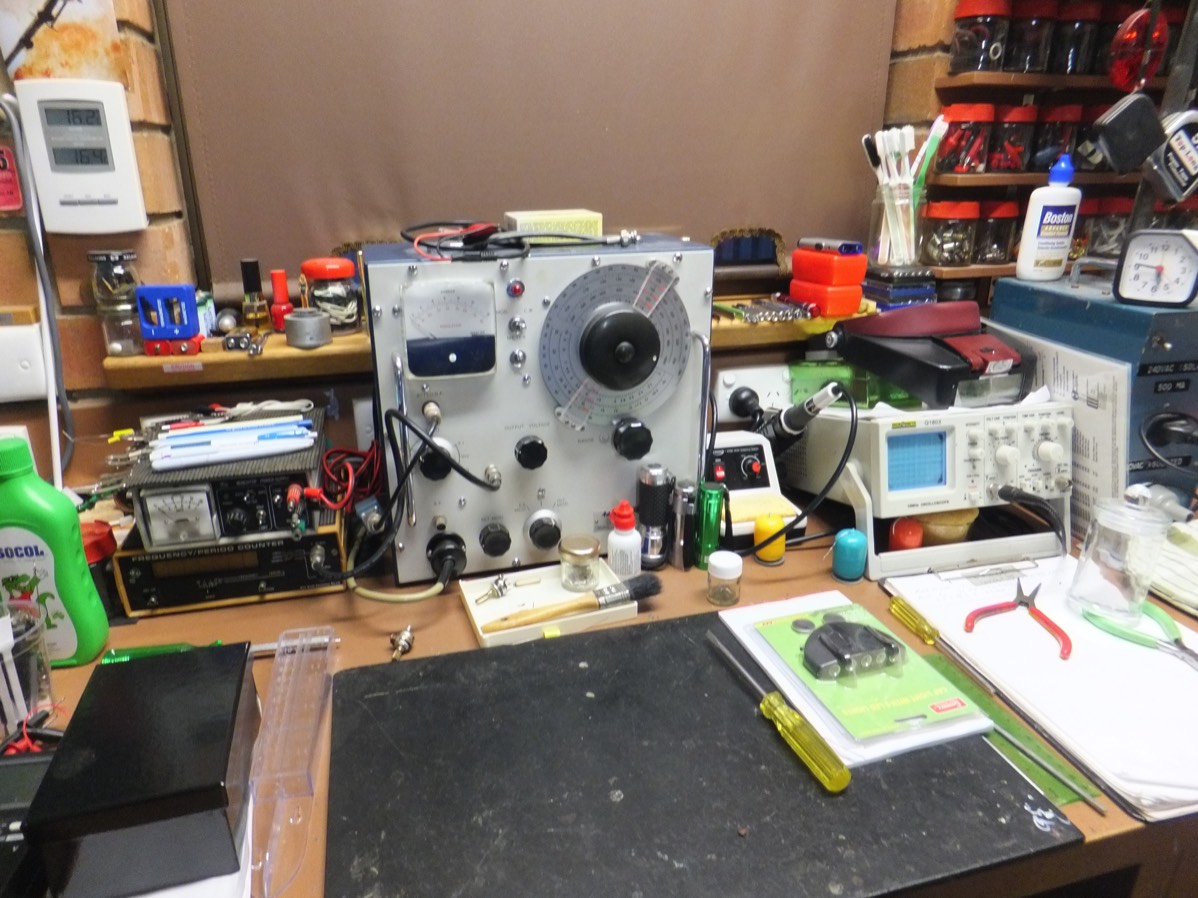 John and Elizabeth, we salute you. Congratulations on your Life Memberships. You are friends to one and all and your commitment to us is absolutely outstanding.